An Ode to Breakfast – UPDATE JAN 15th!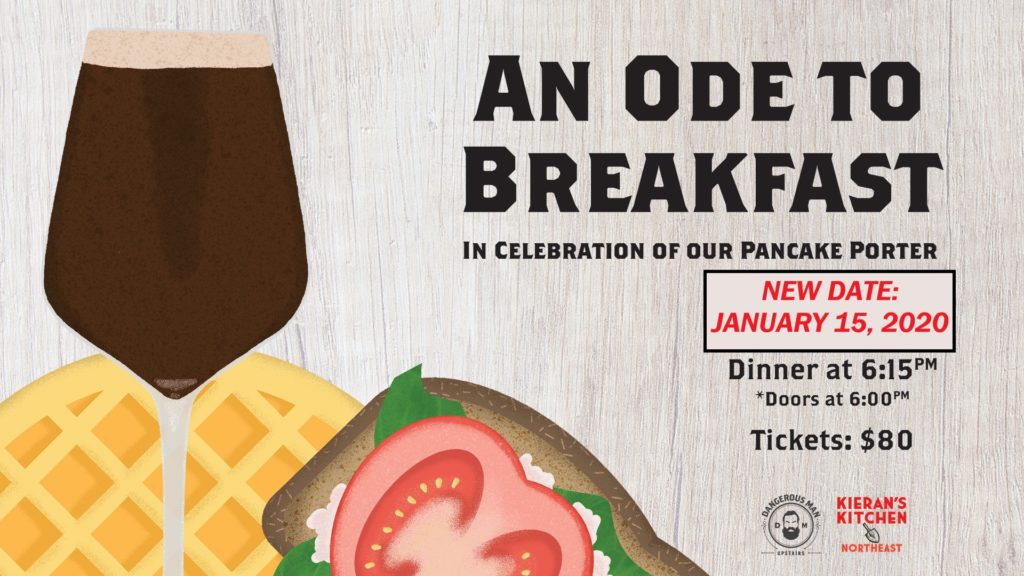 Join us for a lovely evening of curated pairings in our new cozy space, Upstairs at Dangerous Man! In celebration of our Imperial Pancake Porter bottle release, we've partnered with Kieran's Kitchen to bring you a six course brinner of expertly prepared food. This is Brinner (ahem, Breakfast for Dinner) as you've never seen it before. We worked with Kieran's to bring you elevated pairings with some of our best and brightest beer from this season: Danger Light, Biere de Garde, and of course, highlighting our feature release as the final course pairing, the Imperial Pancake Porter!
A sneak peek of our menu:
FIRST COURSE & BEER PAIRING
Danger Light paired with Tomato Toast with Charred Onions and Nduja Fromage
SECOND COURSE & BEER PAIRING
Blackberry Rose Brut IPA served with a stunning variety of Tea Sandwiches
Biere de Garde paired with a delectable Beer Waffle, savory Sausage Gravy, and Micro Greens
Appetizers and three more incredible pairings await you as well!
Tickets include access to this incredible six-course meal paired with a variety of Dangerous Man Beer; including a glass of our Imperial Pancake Porter before it hits the shelves! As a bonus, bottles of our Imperial Pancake Porter will be available for purchase at this event – one whole day before they go public.   Tickets available here: http://bit.ly/OdetoBreakfast
Dangerous Man Upstairs is currently only accessible by stairs. However, we are looking into what we can make happen in this space – we value all patrons and aim to make our space as accessible as possible. If you have any questions, comments, or suggestions, please email our Private Events Manager at mariam@dangerousmanbrewing.com.