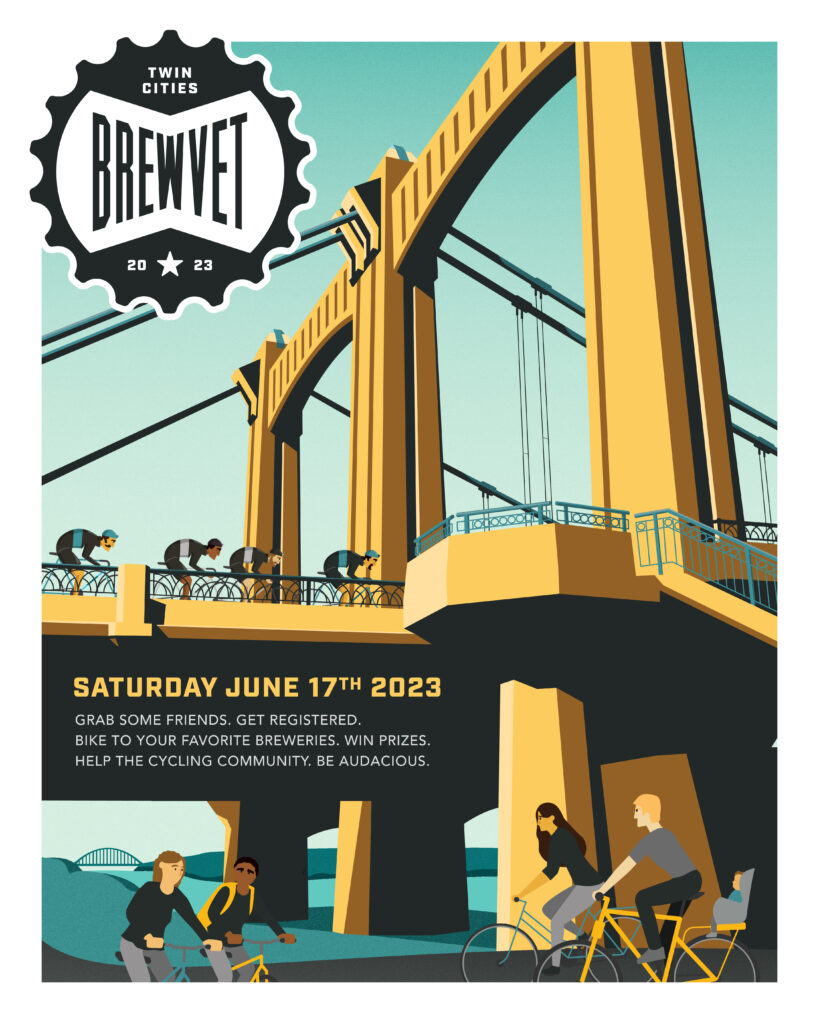 Welcome The Second Annual Twin Cities Brewvet hosted by Forgotten Star Brewing!
The Twin Cities Brewvet is a community DIY style bike tour that encourages folks to get on their bikes and ride to as many participating taprooms in a day as they can, all while fundraising for Our Streets MPLS, The Minnesota Bicycle Alliance, The Midtown Greenway Coalition and The Saint Paul Bicycle Coalition.
The inspiration for the Brewvet comes from the French bicycle event brevet, or, randonneur, which is a bike tour that challenges riders to set destinations within a set time period. The goal is for riders to finish the ride and earn a brevet de audax, or, a certificate of audaciousness.
This year, participants can bike to these participating breweries:
56 Brewing
Alloy
Arbeiter Brewing Company
Bad Weather
Bauhaus Brew Labs
Blackstack Brewing
Broken Clock
Clutch Brewing
Dangerous Man
EastLake Craft Brewery
Elm Creek Brewing
Excelsior Brewing Co
Forgotten Star Brewing Co.
Fulton Brewing
Headflyer Brewing
Heavy Rotation
Inbound BrewCo
Indeed
Insight Brewing
La Dona
Lakes & Legends
LynLake Brewery
Lupulin
Modist Brewing Co.
No 12 Cider
OMNI Brewing
Sociable Cider Werks
St Paul Brewing
The Freehouse
Utepils Brewing
Venn Brewing
Think of a bike race mixed with a scavenger hunt, and a block party to top it off..
The ride starts at 12:00pm on Saturday June 17th. Riders can start at any location they want, and choose their own itinerary for the day, riding to as many or as few breweries as they choose. Each brewery check in earns a stamp on your rider card. Rider cards must be turned into Forgotten Star Brewing by 7:00pm on June 17th to be tallied.
Cap off your ride with live music, food trucks, booths from our beneficiaries, and of course a winners ceremony/prize raffle with over $3200 in prizes to be given away in the beer garden at Forgotten Star. We'll have a cold one waiting for ya.
Proceeds from the event will be donated between twin cities bike friendly organizations – Midtown Greenway Coalition, Bicycle Alliance of MN, Minnesota Off road Cyclists, Our Streets Minneapolis, St Paul Bicycle Coalition, and the MN Cycling Center.
Registration cost is $40. Registration includes a rider card, commemorative brewvet swag, and a free beer at Finish Line Brewvet Block Party on June 17th at Forgotten Star! Rider cards and swag bags can be picked up at Forgotten Star beginning at 12:00pm Monday June 12th and until 5:00pm Saturday June 17th.
Registrations must be made before June 4th 2022 to guarantee t-shirt availability when rider cards are picked up. Registrations made after June 4th will have merchandise available for pick up at Forgotten Star at a later date.
Rider cards can be picked up at Forgotten Star beginning on Monday June 12th and are available or pick up until 5pm on the day of the Brewvet (Saturday June 17th) No refunds. Event is rain or shine.
https://www.eventbrite.com/e/twin-cities-brewvet-2023-tickets-633458731117