Dangerous Circus 10 Year Anniversary Party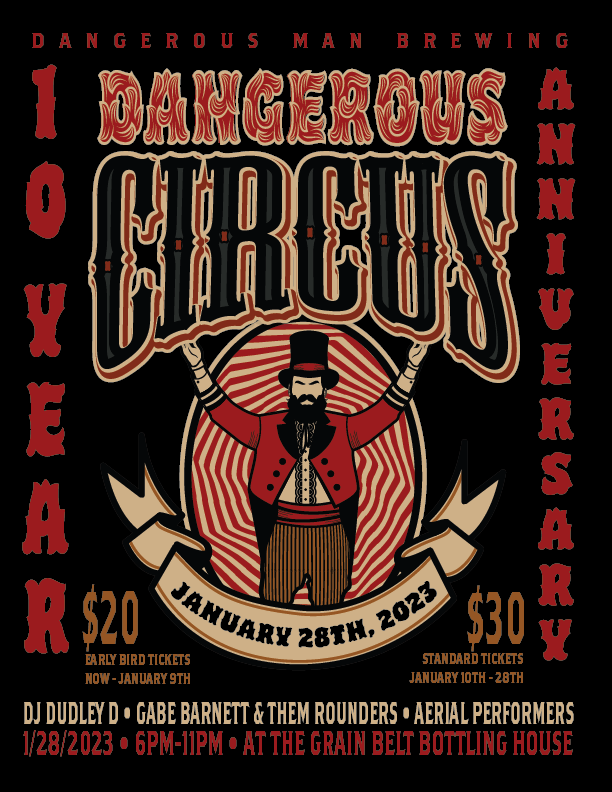 Join us for an evening of Dangerous Circus, a 10 Year Anniversary of Dangerous Man Brewing! We have been taming this wild circus for 10 years, and it is time to celebrate! It will be a night of celebration, friends, DM family, and oddities snack table, a photo booth, aerial performers from Stomping Grounds, music by Gabe Barnett & them Rounders, a dance party with DJ Dudley D and of course, BEER!!
DATE: Saturday, January 28th
TIME: 6-11pm
PLACE: Grain Belt Bottling House, 79 13th Ave NE, Minneapolis, MN 55413
EARLY TICKET PRICE: $20 through January 9th.
TICKET PRICE: $30
THINGS THE COOL KIDS KNOW
Cash is rad. Bring some. We will have limited cc machines.
Your tickets will be listed under the purchaser's name at the door.
Limited parking is available in RSP lot. Carpooling and cabbing are encouraged.  Please plan for safe transportation!
There will be DM beer, seltzers, and NA for purchase. A few snacks but come fed and ready for a party night!
Doors open at 6 and we pretty much have events, performers, toasts, bands, and dancing planned straight through till 11pm. Don't miss something because you wanted to be fashionably late:-)
Dress in whatever you want. Some of us will be fancy, some will be funky and some will just wear whatever they wore the day before.
We will also be doing a barrel-aged beer toast at 10pm to celebrate 10 years. This one is on the house…DM's house that is!