Dangerous Man + Nixta Collab Parking Lot Shindig!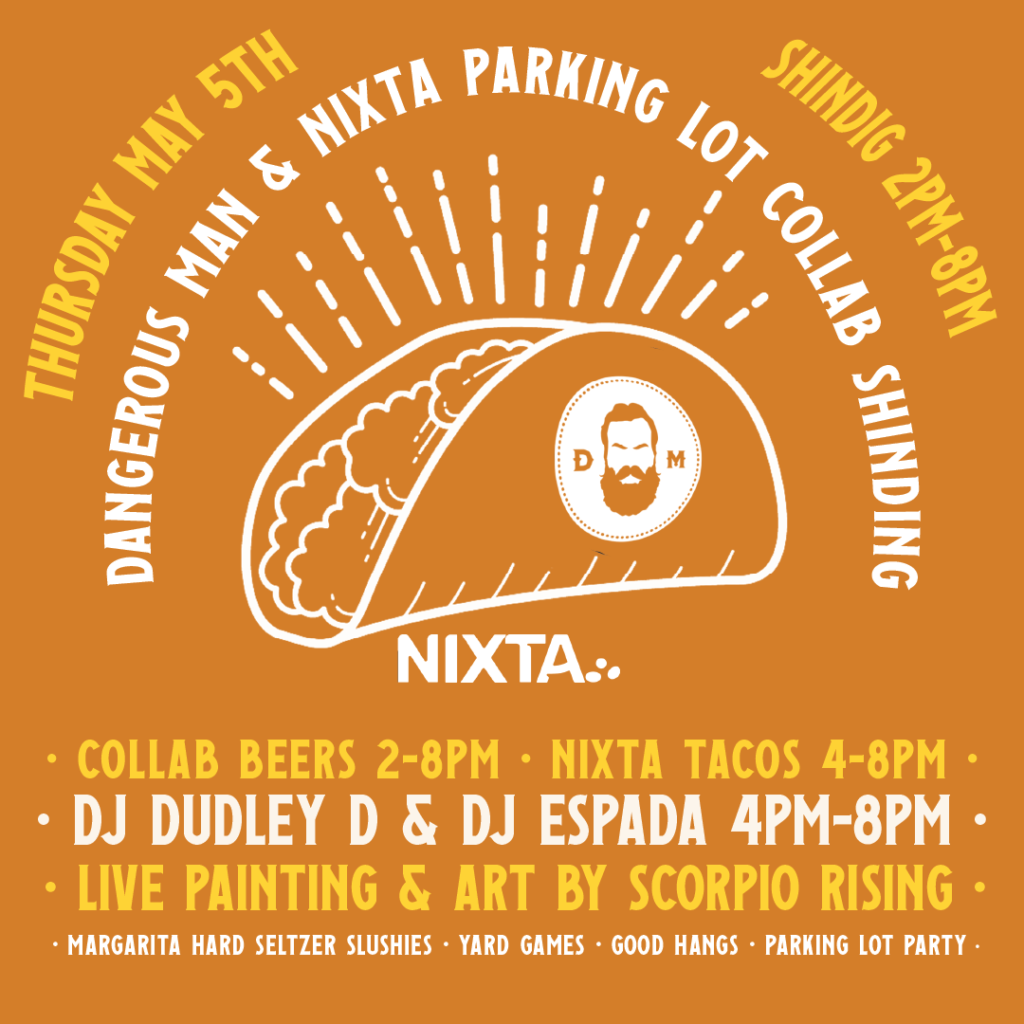 Dangerous Man + Nixta Collab Parking Lot Shindig! Mark your calendars for May 5th, Cinco De Mayo for a good old fashion parking lot party! We will have 8 collaborations pouring on tap outside in our parking lot along with our amazing neighbors Nixta Tortilleria, who will be serving up some delicious Tacos, Esquites and more.  DJ Dudley D and DJ Espada will be throwing down some festive tunes, and artist Scorpio Rising will be doing live art and have art for sale.
 2PM – 8PM: Parking Lot Collab Shindig Beer &  Yard Games. Tap lines and parking lot hangs start at 2pm. Swing on over and enjoy our 8 featured collaborations for the Craft Brewers Conference and a Hard Seltzer Margarita Slushy collaboration with Nixta!
4PM – 8PM Nixta Tortilleria Tacos, Esquites, Chips & Salsa
4PM – 8PM:  DJ DUDLEY D & DJ ESPADA spinning tunes!
Dangerous Man Collaboration Features:
The Grungeist Grisette: Collab with 1840 Brewing Company, Hop Head Farms, & Proximity Malts
Hygge Danish Lager: The Country Malting Group, Yakima Chief Hops
Mango Mango Cheesecake Fight Pastry Ale: The Brewing Projekt, Malteurop Malting Company
RazzWah Raspberry Fruited Sour: Collab with Lallemand Brewing, Maltwerks Malting Company & Premium Ingredients, The Barrel Mill
Star Lite Star Brite Pale Ale: Collab with Omega Yeast & Hopsteiner
Apiary Drop Triple IPA: Modist Brewing and Local MN Wildflower Honey from Bare Honey
Sake Rice Lager: Collab with Fair State Brewing Cooperative
The Rising of the Dame Hazy IPA: Claire Stern & Todd Haug Collab
Margarita Hard Seltzer Slushy: Collab with Nixta Tortilleria & Mexican Takeout
Come hang out, eat tacos, drink beer, listen to the DJ spin some tunes, meet some folks, and play some yard games! A true parking lot Shindig! Family friendly and free entry!