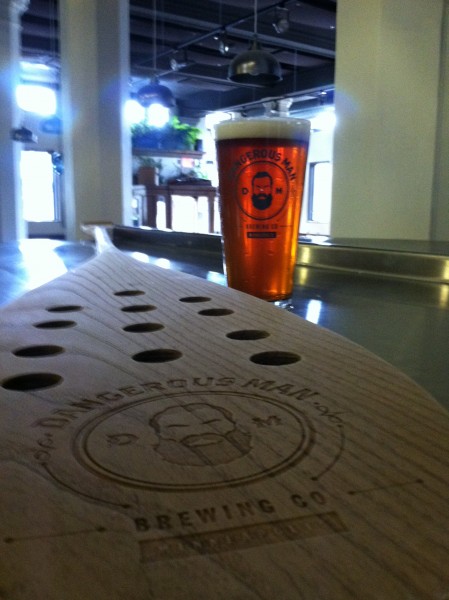 Often overlooked, there is nothing more pleasant than enjoying a Biere de Garde on a midsummer evening. Lucky duck you Dangerous Man has just put their's on tap!
Biere de Garde's hail from France, and as stated above they are often overlooked in the beer world. Produced by small breweries, Biere de Garde use regional ingredients and are top-fermenting. The beer is then typically lagered to drop the more intrusive ester profiles from the top-fermenting yeast and highlight the softer flavors of the interaction between malt, yeast, and water. The region that produces these beers borders with Belgium and has a long history and sometimes confusion with Saisons. Both farmhouse ales, typically Biere de Gardes are stronger in alcohol content and have a 'cellar-like' quality gained by local yeasts and bacterium whereas a Saison has a lower alcohol content and was not typically cellared. These two beers are meant to be served in the summer season, in my opinion just after twilight when the strain of the day matched with the beer turns into a peaceful nocturne.
Rob and Keigan's Biere de Garde uses Rahr Pils for it's base malt and includes Vienna, Aromatic, and Honey as supplementary malts. Each of these supplemental malts contributes a unique aspect to the beer: Vienna a touch of biscuit and toast, Aromatic a heightened malt/grain nose, and Honey for a tincture of sweetness that blends with the slight hop bitterness. Biere de Garde's are not a hop forward style; they find their perfection in balance, where the interplay of all four ingredient groups (malt, water, hops, yeast) add something particular to the flavor profile of the beer.
We live in a world of ideals. For this beer I'll claim the ideal is to do your favorite form of exercise to the point of near exhaustion, find your way to Dangerous Man, plop down with the sag of soreness, and take a nice long draw of a fresh poured Biere de Garde. Bliss.
Drink local, drink Dangerous; live long and prosper.