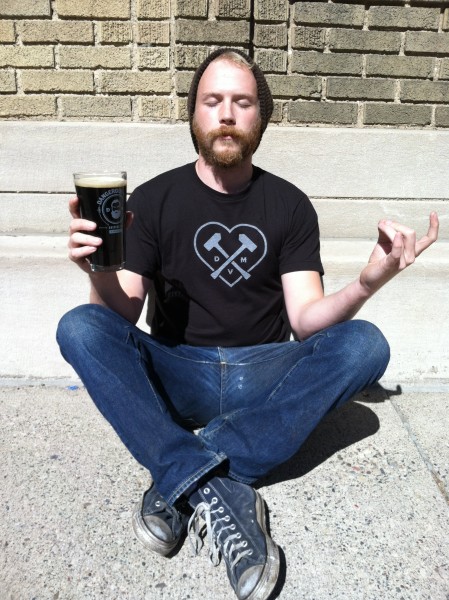 There's bonfires down the street, hoodies and flannel have returned, and the beer seems to be pouring darker, richer, stronger, and far more sweet and spicy in the aromatics. What gives? What could possibly going on?
And why has Dangerous Man made this exquisite Vanilla Porter to beckon this change's coming?
I'm not sure if i'll ever figure this out, but Dangerous Man's Vanilla Porter is on tap, and it is rich, complex, and too much of a pleasure to drink.
This beer supports a large malt bill including — 2-row Rahr, Marris Otter, several Crystal malts, Aromatic, Special B, Chocolate, and finally, Roasted Barley malts are all included. What does this say about the beer?
Several things. For one, it is going to be jet black with a definitive toastiness. We know this because the inclusion of Chocolate and Roasted Barley malts. For another, it will have a prominent, malt-forward nose that blends roast, sweet-malt flavor, and a hint of raisin or dates from the blending of the Aromatic, Special B, Chocolate, and Roasted Barley malts. A final conclusion we can make is that along with the roasty, chocolate, and fig flavors we will be able to find hints of biscuit and caramel from the inclusion of Marris Otter and the several Crystal malts. These malts will also supply a larger, more satisfying, mouth-feel.
Whoo! That was just the malts. This whole time I haven't even touched on this beer's namesake, that being the several different varieties of Vanilla used during fermentation of this porter.
Vanilla is a bean that has it's origins in Mesoamerica in the same region as cacao beans. The brute Cortes is credited with bringing both vanilla and chocolate to Europe after his conquest of the Americas. The vanilla plant is a tricky plant though, for 300 years it evaded being grown anywhere else but Mexico. It did this by being pollinated only by a very specific bee found in Mexico, the Melopina bee, a type of stingless black bee. Eventually a hand pollination technique was discovered, and is currently utilized all over the world. This is why we have such things as Madagascar vanilla and so on.
Rob and Keigan added vanilla from five different parts of the world – Mexico, Indonesia, Uganda, Madagascar, and India – to the fermentation tank while the tank was being cold crashed, and let it sit on the vanilla post fermentation. The vanilla will be prominent in the nose and in the taste, and blends well with the chocolate, roast, and caramel tones from the malt bill.
This beer is a delicacy fit for royalty, and as dangerous people we all are royalty. Imbibe, and imbibe exceptionally.
Drink local, drink Dangerous!